ZSOM-Mini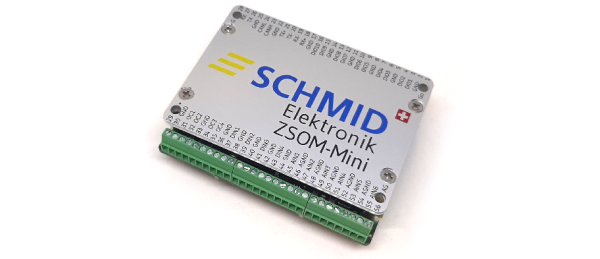 The ZSOM-Mini is an off-the-shelf hardware module from NI Embedded-Specialty Alliance Member Schmid Elektronik, integrating the NI System-on-Module (SOM) sbRIO9651 on a tiny carrier board. It is designed for miniaturized measurement, control and monitoring applications and can be fully programmed with LabVIEW RT and LabVIEW FPGA. The board is about the size of the SOM itself and provides all the features on two screw terminals.
Analog IO
6x

analog in

, 16 bit, ±5V or ±10V, 450kHz simultaneous, 4th order antialiasing with fg=200kHz.
Digital IO
Communication
1x

SD-Card

(available from hardware Version V1.1ff)

1x generic extension connector with possibility to add mPCIe board that adds WIFI, 4G and GPS to the system
Miscellaneous
Detailed descriptions
Size including the SOM: 64mm x 76mm x 22mm
Ordering Code
ZSOM-Mini-
xx
-
xx
-
xx
-
xx
Heat spreader
SE Schmid Elektronik
NH No Heat Spreader
SN Schmid elektronik (No top sheet metal)
Connection
ST Screw Terminal
MP Multi Pin Connector (Stiftleiste)
00 Solder Pads
Power concept
3S Multi cell battery or power supply (9…30V)
1S Single cell battery (3.5..4.2V)
Backup Voltage
BB Backup Battery
NB No Backup Battery
BH Backup Battery for external RTC only
The following Versions are available:
ZSOM-Mini-BB-3S-ST-SE: Standard screw terminal version. Use this or ZSOM-Control to realize a prototype.
ZSOM-Mini-BB-1S-MP-SN: Embedded. Custom Base board and mechanical design needed.

Links for ZSOM Mini