ProgDongle
ZBrain-System (Z48-C1, Z27-C1) features a standard connector for programming.
This connector features JTAG, FDM-UART and SPI-Bootlines.

A small ProgDongle (38x16mm) interfaces this connector to the JTAG emulator or to an RS232 PC port.
The ProgDongle serves several different functions:

FDM programming (RS232. Note: DSUB9 RS232 adapter cable needed)

Emulator connection (JTAG)

Series production and field updates (On board memory, boot and program from ProgDongle)

Please read Zbrain SDK Z4 Software Manual, chapter 5.11 to learn more about ProgDongle programming.
Software documentation: Firmware Update from SD-Card
Software template/example: templates page.


| | |
| --- | --- |
| ProgDongle_STD (Z48-C1, Z27-C1, custom targets) | ProgDongle_ZMC (ZMC) |

accessories needed:
- DSUB9 RS232 adapter cable for FDM programming


notes:
- order ProgDongle_STD for Z48-C1, Z27-C1 and custom hardware
- order ProgDongle_ZMC for ZMC
- If using FDM or JTAG, make sure the "boot" jumper is NOT set.
- The Flash Size is 64Mbit which is the size of the on board flash of Z27-C1 and half the size of the on board flash of ZMC and Z48-C1.

BootJumper Settings for ProgDongle_STD:



0E resistor, size 0603

The boot jumper determines which memory the processor boots from:
Not Set = boot from target memory (=normal boot mode)
Set = boot from ProgDongle memory


R3 Settings for ProgDongle_ZMC: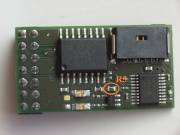 1k resistor, size 0603

The resistor R3 determines which memory the processor boots from:
R3 = not assembled = boot from target memory (=normal boot mode)
R3 = 1kOhm = boot from ProgDongle memory